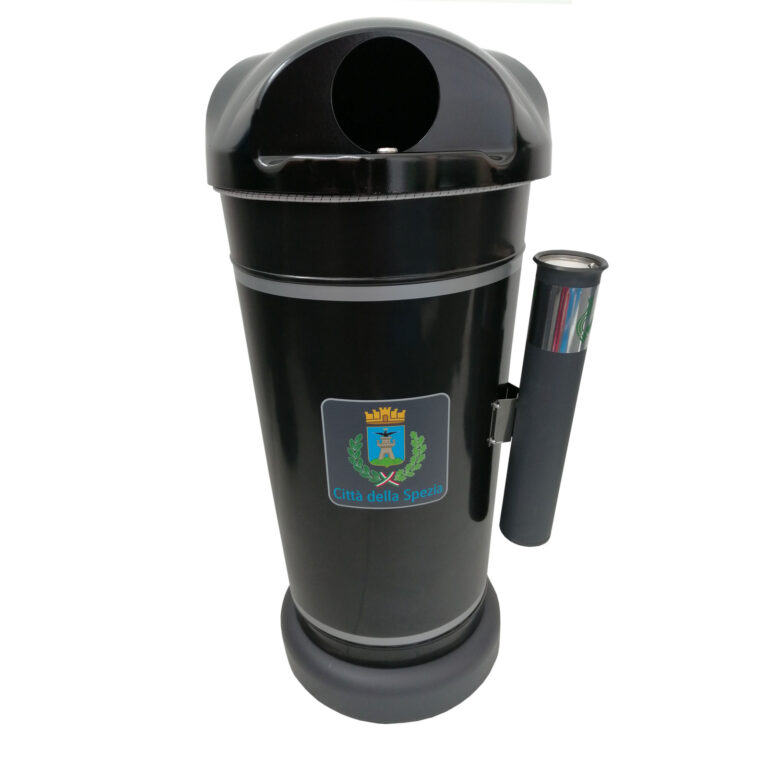 1083 TECHNICAL DATA CONTAINER LT.105
 3 HOLES COVER SINGLE COLLECTION
The container from lt. 105 conical H. 80 CM. is made of polyethylene with rotational technique, with a base of D.37 cm. and a higher D.  44 cm.
This printed material offers high impact resistance and aging resistance and discoloration.
The lid instead is constructed of thermoformed ABS with 3 slots of which 1 front and
2 sides of cm. 27×12 cm. each one is also locked to the body / container by a triangular lock.
The container is fixed on a concrete base of D. 43 and weight kg. 20, externally lined with a polyethylene structure making the set more pleasing.
Dimension: cm. 43 base – cm. 46.50 lid – h. total cm. 90
It will be care of the manufacturer to provide, even at a distance of time from the purchase, all the spare parts both metallic and plastic in the shortest time possible, so as to overcome the use of the object due to damage resulting from vandalous acts or serious atmospheric events.