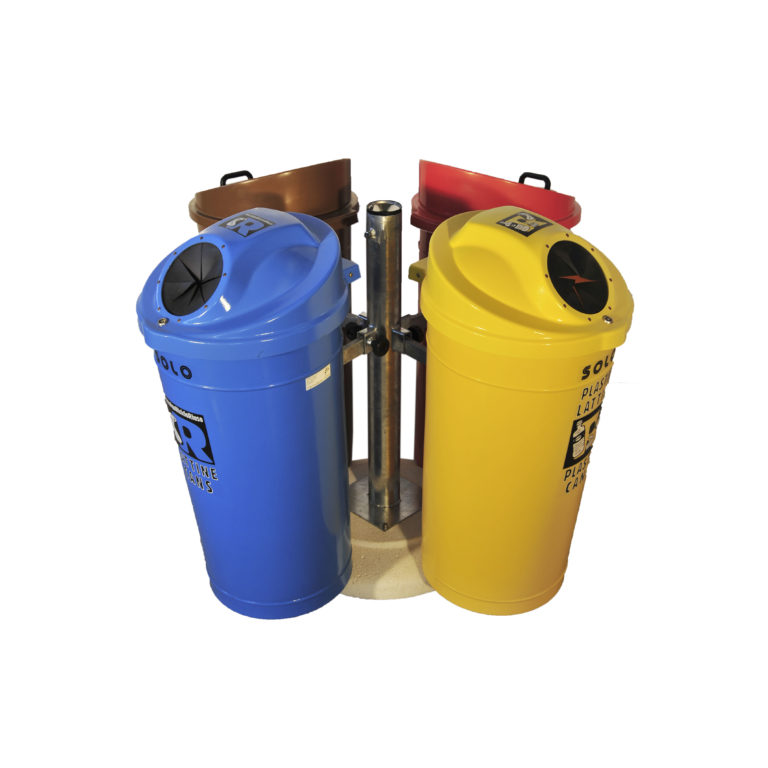 TECHNICAL INFORMATION ART. 1231
Island composed of 4 bins 105 liters support from a central column hot galvanized 90 mm. diameter fixed on a circular cement base of 60 cm. diameter and 60 kg weight.
Each bin is built in polyethylene with rotation way, it has a cone shape 80 cm. high with 37 cm. diameter base and 44 cm. diameter top.
This material has high resistance to impacts, aging, fading, corrosion, weathering, UV rays, scratches and it doesn't suffer bruises.
In the center of the column can be insert a flagstaff 4 meters high, it's built in color PVC and it could be underground.
The lids are in thermoformed ABS in white color.
Dimensions: cm. 96×96 H. 90 cm.
BeeGreen can always supply all the plastic and metal components
in short time in order to replace them if happen vandalism and serious weather damages.
Description
[/vc_column_text][/vc_column][/vc_row]
SCOPRI LE ALTRE MINI ISOLE ECOLOGICHE
In questa sezione potrete trovare tutti i tipi di isole ecologiche utili ad organizzare al meglio il vostro riciclaggio  . Vedi tutti i prodotti della categoria