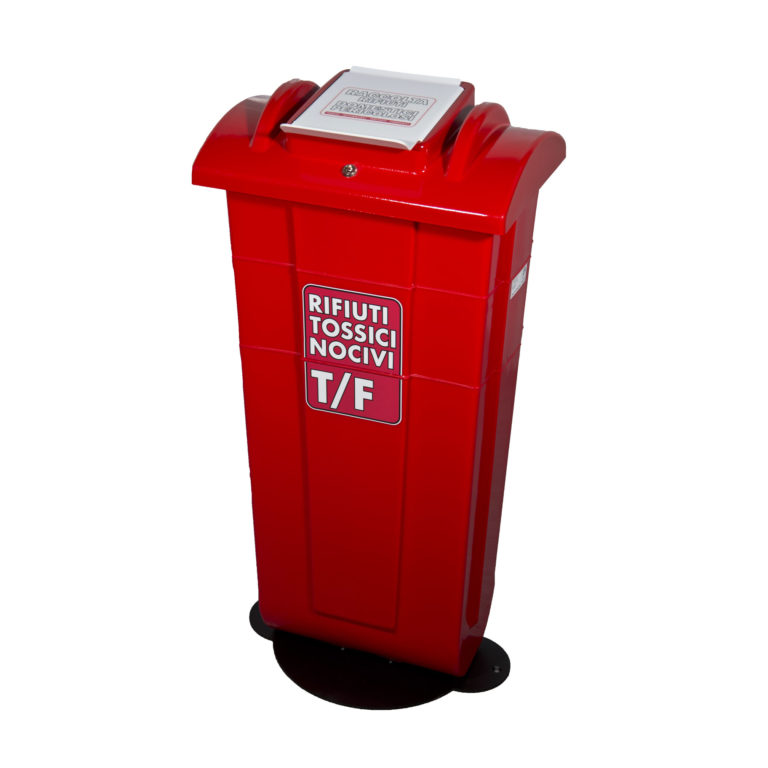 TECHNICAL DATA SHEET Item 1323 T/F AND WEEE COLLECTION BIN 90 lt. WITH METAL BASE
The T/F AND WEEE collection bin is built in polyethylene with the rotational technique.
This material guarantees great resistance to shocks, aging, as well as fading.
The lids of the containers are made of thermoformed ABS and then stained with the best two-component paints.
They are stuck to the container by means of a lock in a triangle, the refusal of access takes place by means of an anti-intrusion door.
Emptying takes place by a bag or a removable inner container, also built in plastic with the rotational technique.
It has a suitable thickness such as to guarantee total safety operation of emptying the operator.
The containers are supplied with a metal base courtwhich it can be fixed to the floor through the two side holes
FEATURES AND MINIMAL MEASURES
-capacity container ca lt. 90
-height cm from the ground approx. 100
-sized cover ca cm. 47×32
-sized cop. intrusion ca cm.19×19 H.20
-depth max approx cm. 40
-dimensions stand ca kg metal. 48.5 x 37