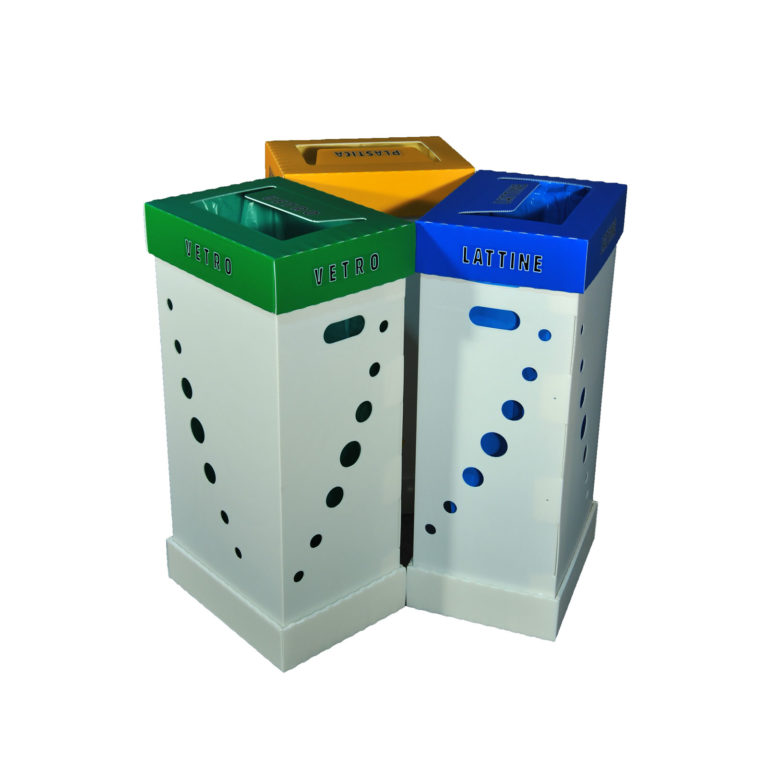 DATA SHEET "ECO EASY 100" Item  1269
Eco Easy 100 is a robust and durable container, designed for the collection differentiated waste as: plastic, paper, metal, glass, organic, undifferentiated etc ….
Perfect for offices, hospitals, schools, fairs, events, festivals.
With "Eco Easy 100" separate collection becomes easy and feasible everywhere.
The material used is the propylene (PP) honeycomb, 3 mm thick, with excellent mechanical properties of impact resistance, the good chemical resistance properties of water, fat, and certain solvents.
The bin is light, washable, easy handling, reusable and durable.
The white color of the stem is provided with two handles for use holes and other holes with the function of ventilation and easy detection of the amount of the inserted waste.
The ventilation of the container makes it particularly suitable for the separate collection of organic waste bags made with biodegradable and compostable bioplastic certified EN 13432.
The ventilation fact allows easier evaporation of the water contained in the organic wet waste, resulting in a decrease in weight and elimination of bad smells.
The cover is of a different color from the stem and can be chosen from those available: yellow, blue, green, gray, white, brown, to easily indicate a refusal to be given, together with practical stickers with the name of waste.
The cover is easily releasable to enter the bag and for cleaning the inside of the container. The lids are interchangeable according to the refusal to insert and are also available individually as an option.
This allows the basket to be used from time to time for a different type of differentiated collection.
The white base is easily unlockable as the cover, and this allows an easy extraction of the bag, in case of particularly heavy or bulky waste. This possibility also allows an easy hygienic cleaning of the container and also facilitates the storage container into three parts, the folded stem, base and cover.
Characteristics and minimal measures:
-sized container ca cm. 30×40 H.85
-capacity container ca 102 lt
-sized lid and bottom ca 32×32 cm H 10
-size lot ca cm. 70×110
-weight kg. 1.00
-fully recyclable