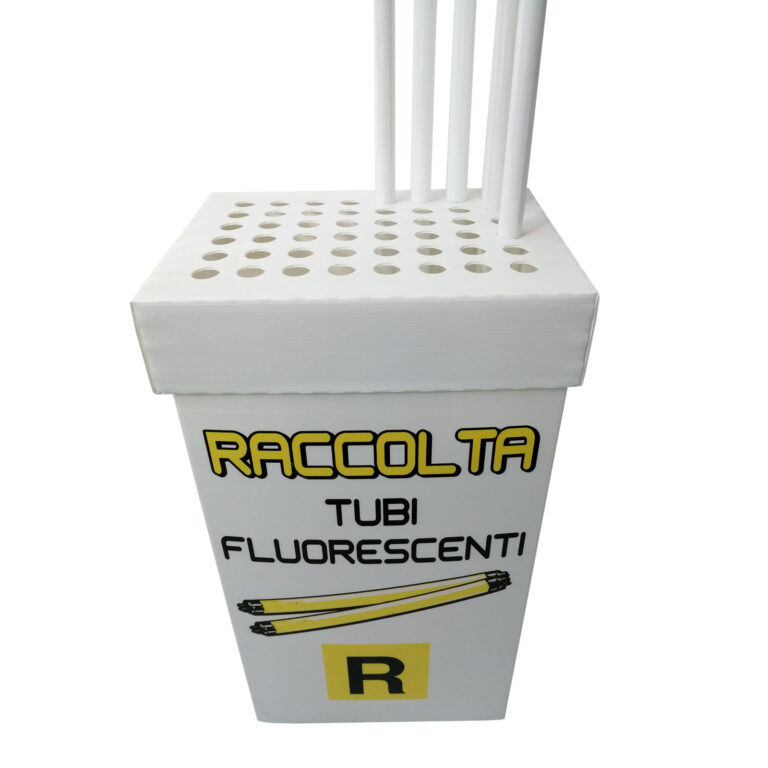 DATA SHEET "ECO EASY NEON" – Item 1291
Eco Easy Neon is a tough and durable bin for the light tubes collection.
Suitable for electronics stores, mass merchandisers, small and medium companies.
The material used is the propylene (PP) honeycomb, 3 mm thick, with excellent mechanical properties of impact resistance, by good chemical properties of resistance to water, fat and solvents.
The bin is light, washable, easy to handle, reusable and long duration.
This container with dimensions of 30×40 cm H.75. has inside 2 perforated separators, plus a third external separator having the function of a cover, it has gripping handles cut from the outer walls on two opposite sides.
It can collect 48 neon from 50 to 150 cm.
It has a release indicating the type of waste in the two walls without holes, including the "R" black on a yellow background.
Propylene is a product that is not afraid of moisture, can be washed with water and the walls can be treated with solvents.
The base of the container is interlocking, this makes easy the displacement and at the same time can be ballasted in its interior with a weight (eg. Tile) so the bin can also be placed in a partially covered spaces.
Characteristics and minimal measures:
-sized container ca cm. 30×40 H.75
-capacity container n. 48 neon tubes 60/120/150
-weight kg. 1,500
-fully recyclable