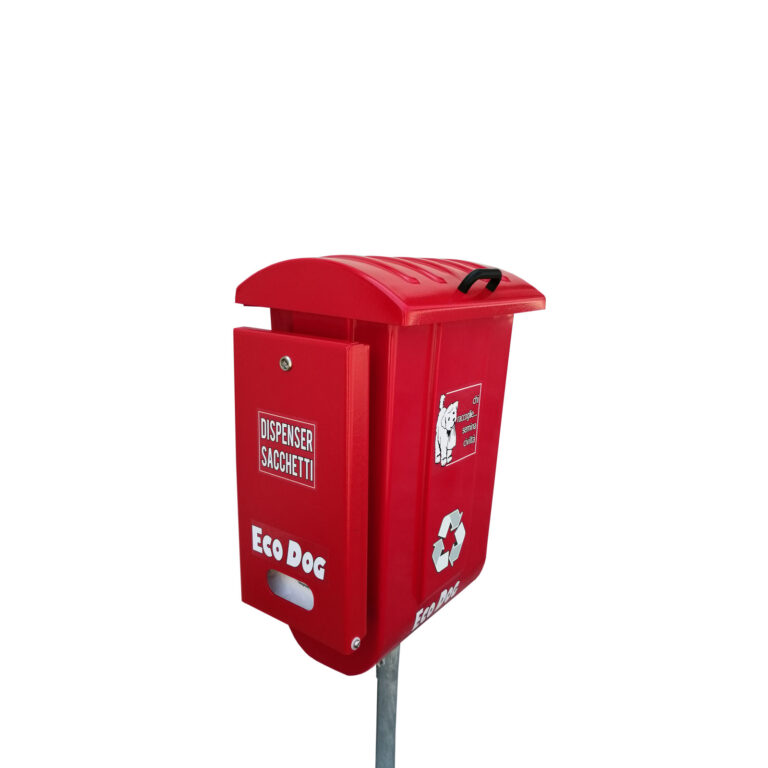 TECHNICAL DATA Item 1360 BIN 50 lt. polyethylene
with bags dispenser and galvanized pole H. 75 cm.
"ECO DOG"
The bin is made of High Density Polyethylene with the rotational technique.
This material is printed in order to guarantees great impact resistance, against aging and discoloration.
It is a rectangular-shaped conical trunk container, the measures at the top is cm. 30×45 and has a height of cm. 60
The lid of the container is constructed of thermoformed ABS and then colored with the best bi-component paints, it has an handle opening.
On the side of the bin is fixed a bag dispenser, built in ABS thermoformed and then painted with the best bi-component paints.
The dispenser is made of two hinged parts, contains no. 350 bags, it has a dimension of mm. 228x445x50 mm.
The bin can be emptied by a plastic bag or an inner container extractable built in rotational hdpe.
The galvanized pole is 75 cm high and it can be insert in the sand, ground and floor.
The bin is produced with the strongest material to build polyethylene and is planned to last several years. However if it has some production errors we will replace it within 2 years of the purchase. Vandalism and heavy weathering are excluded from the warranty.