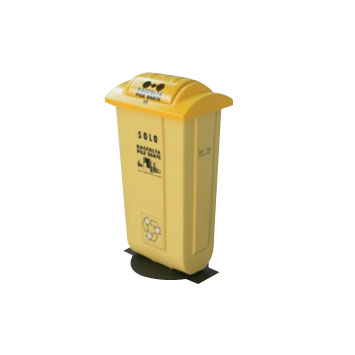 DATA SHEET Item 1103 BIN C65 "COLLECTION BATTERIES"
The containers of  "COLLECTION BATTERIES" are built in polyethylene with ROTATIONAL technique.
This material provides excellent qualities for high impact resistance, aging and fading.
The lids of the containers lt. 65 are made of thermoformed ABS and then painted with the best two-component paints.
The lids are locked to the container by a triangle lock, the refusal access takes place through holes.
The emptying takes place by a bag, or through a removable inner container, also built in plastic with the rotational technique.
The "collection of used batteries" containers are provided with a metal base is possible to make 2 separate collections with the same container.
FEATURES AND MEASURES:
-capacity container ca lt. 65
-height ground ca cm. 88
-sized cover ca cm.47×32
-sized ca cm base. 48×32
Total weight ca Kg. 11.5