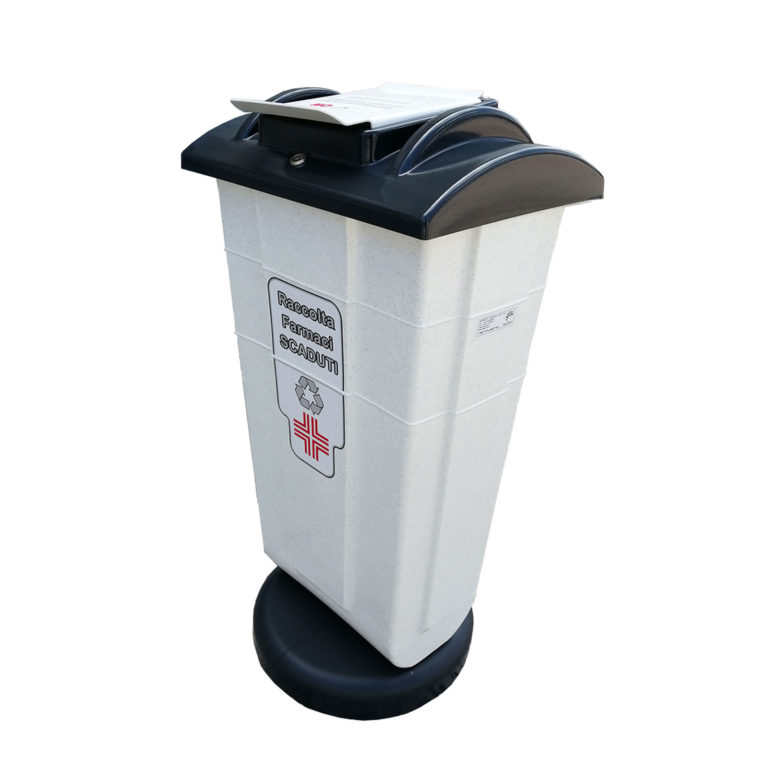 TECHNICAL INFORMATION Item 1102 B EXPIRED MEDICINE COLLECTION WITH COVERED CEMENT CIRCULAR BASE
The bin for collection medicine is made in polyethylene built in rotation way. This material has high resistance to impacts, aging, fading, corrosion, weathering, UV rays, scratches and it doesn't suffer bruises.
The covers are in thermoformed ABS, colored with the best component paints, they are secure with a triangle lock, the access of waste takes place through a intrusion door. We can also provide a inner bin which can replace the plastic bag, it's removable and it give total safety in emptying operation especially if syringes with needle are introduced carelessly.
The bin has a cement circular base covered with white or anthracite gray pvc.
Dimensions:
Capacity about 90 liters
Height 100 cm.
Cover dimension 47×32 cm.
Intrusion door 19×19 H.20 cm.
BeeGreen can always supply all the plastic and metal components in short time in order to replace them if happen vandalism and serious weather damages.