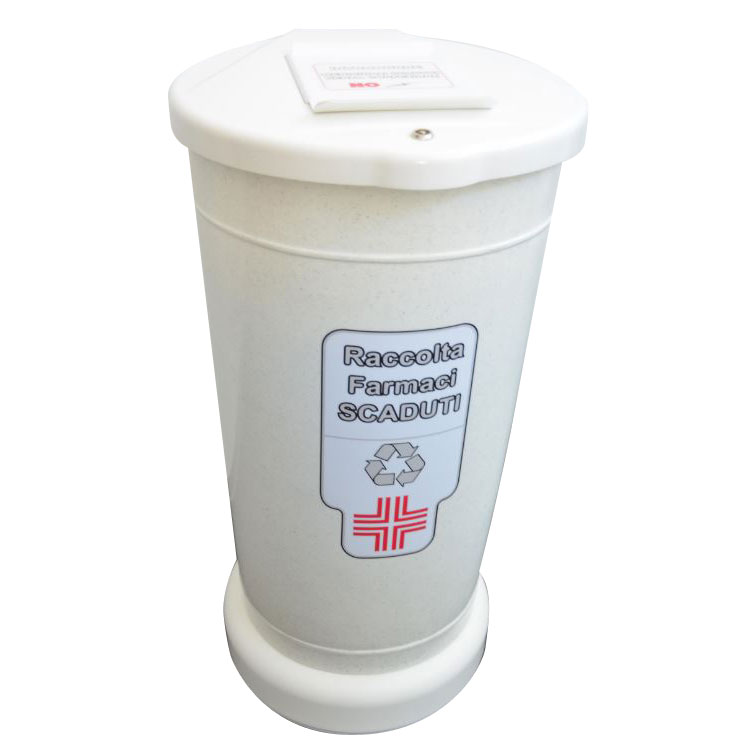 DATA SHEET C 105 Item 1245 BIN 105 lt. WITH COVERED CEMENT BASE
The bin 105 lt. for medicine collection is made in polyethylene with the rotational technique.
This material, well printed, provides high impact resistance, aging and fading.
The lids of the containers are constructed in rotational polyethylene.
They are locked to the container by means of a lock in a triangle, the refusal of access is through an anti-intrusion door.
The emptying takes place through a bag, OR via a removable inner container, also built in plastic with the rotational technique. It suitable has a thickness such as to guarantee total safety operation of emptying the operator, especially in the case were introduced for lightness of the SYRINGES as the structure prevents the escape of
needles.
The containers are provided with a concrete base externally protected by a polyethylene surface, which allows the positioning of the same also on the quality roadways.
FEATURES
-capacity  ca lt. 105
-height ca cm. 105
-sized cover ca cm. 48
-sized intruder cover ca 19 cm × 19 H.20
-depth max approx cm. 56
-sized cement based ca cm. 42
-colors covered base: white or dark gray
Total ca kg-weight. 25