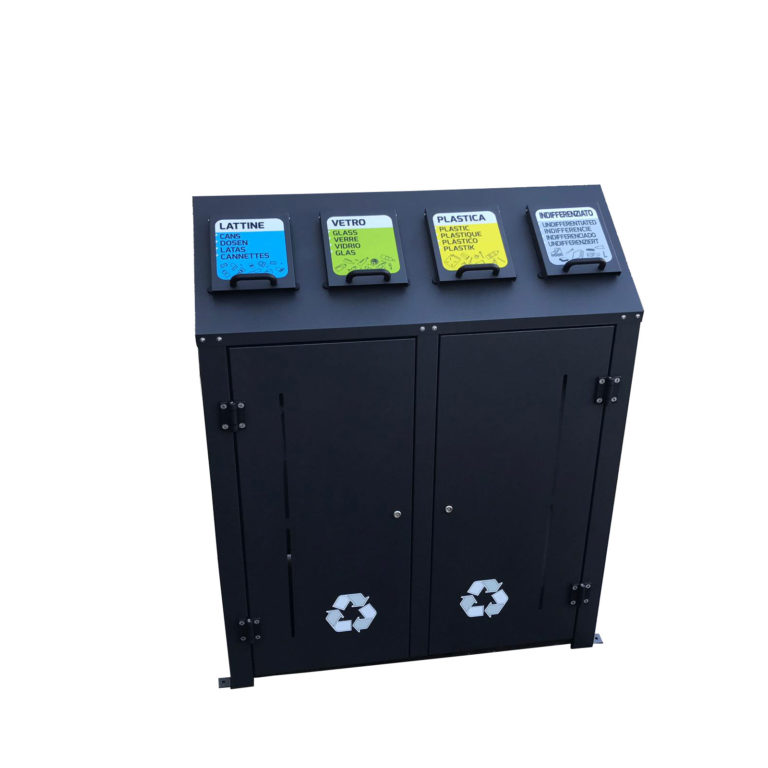 TECNICAL INFORMATION item 1131
COMPACT A 4 COLLECTION C. 360
Eco Home compact 4 is a mini island for recycling waste.
It's in hot galvanized metal 15/10 painted in epoxy powder.
The rectangular base has a dimension 79×47 cm. and the top dimension is 86×53 cm.
On the structure is fixed a triangle cover, the 2 sides are 86×34 cm. where in each side there are 2 square entrance doors 19,5×19,5 with easy handles.
Total height 123 cm.
Inside there are 4 bins in HDPE 90 liters, each one has a dimensions 47×27 h.86 with easy handles.
They are easily removable through the entrance door with the dimensions 74,5 cm. larger side, smaller side 68,5 cm. and high 86 cm.
They can be secure with a triangle lock.
Dimensions: 86×53 H.123 cm.
Weight: 56 kg.